Like environmental organizations around the world, 350 Madison had big plans for the 50th anniversary of Earth Day. When the coronavirus pandemic required that those plans be shelved, we got creative! We quickly switched gears from organizing live, in-person actions and celebrations in downtown Madison to hosting a series of online events.
Embracing the theme of "Looking Back, Moving Forward," we celebrated movement achievements since the first Earth Day, made props and other art for the time when we can again march together in the streets, and participated in the nationwide "Stop the Money Pipeline" campaign.
Take a moment to watch this moving video tribute to 50 Years of Earth Day created by our talented videographer, Alicia Shoberg. Then join us as we renew and strengthen our commitment to the work of preserving a livable planet for future generations!
We made history, in Madison and around the globe!
More than 7 million people took to the streets around the globe the week of September 20–27, 2019. In one of the largest coordinated protests in history, they demanded immediate action to address the climate emergency.
Here in Madison, more than 4,000 took part, first gathering at Madison Gas & Electric to demand that the utility transition to 100% renewables by 2030, and then marching to the Capitol to call on Governor Tony Evers to declare a climate emergency, finishing the day with deafening calls for climate justice in the Capitol Rotunda.
Youth Climate Action Team (YCAT) led the Madison event, with support from 350 Madison, Sierra Club, First Unitarian Society, Extinction Rebellion, Wisconsin Network for Peace & Justice, and an array of other organizations. Watch YCAT's short but powerful video overview of the day:
350 Madison's talented photographers took wonderful photos and video of the event. Here are links to their albums:
Photos by MS
They Came
Climate Signs
MGE Rally
March to the Capitol
Capitol Rotunda Rally
Photos & videos by Monika Blazs
Global Climate Strike (photos)
Global Climate Strike (videos)
Hands Across the Sands is an annual international day of action that was created in response to the BP oil spill. People come together on beaches and riverfronts across the globe to say NO to dirty fuels and YES to clean energy.
We gathered on May 19, 2018, in Janesville, Wisconsin, to celebrate the Rock River and say NO to the Enbridge oil pipelines that threaten its waters. The event was sponsored by 350 Madison, the Wisconsin Safe Energy (WiSE) Alliance, and the Sierra Club.
Standing in solidarity with thousands of others around the world, we joined hands to express our resolve to stop the flow of toxic tar sands through our state.
Monika Blazs, a wonderful professional photographer, documented the event.
Speakers and performers:
Aaron Aegerter, member of Rock County WiSE and chair of the Sustainable Janesville Committee, who emceed the event and led us in singing his rousing song "Don't Risk the Rock!"
Susan Johnson, host of "The Rock Runs Through Us" on WADR 103.5 FM Janesville Community Radio
Chuck Ogg, member of Rock County Progressives
Brandon Pederson, Janesville area poet and thespian
Mark Welsh, Native American drummer and singer
Phyllis Hasbrouck, with the WiSE Alliance and 350 Madison
You can read Aaron Aegerter's excellent op-ed on the event here.
Water is life!
——————–
Slideshow of Hands Across the Sand — May 19, 2018
The full collection of Hands Across the Sand photos can be found in the Facebook album of the same name.
Break Free 2016 brought together a network of organizations demanding a just transition from fossil fuels to a 100% renewable energy economy. Whiting, Indiana—home to the world's largest BP oil refinery—was chosen as the site of Break Free Midwest, which was held on May 15, 2016.
The Break Free Midwest organizers explained the purpose of the event:
We are the People of the Great Lakes and Upper Mississippi Region and we reflect the many colors of the People of the Earth. Our ancestors came from many lands and together with the indigenous First Nations we all live on this land, drink this water and breathe this air.
We are marching because we the people have a Right to clean water, air and land that is greater than any corporate need to make money!
Our diverse group from throughout the Midwest drafted this formal resolution outlining the devastation the fossil fuel infrastructure has caused to the Great Lakes region and our solutions to allow us as a society to Break Free from fossil fuels. You can view a summary version of our resolution, the full version, or sign the resolution.
The event was one of a series of actions that took place around the world to demand that fossil fuels remain in the ground. 350 Madison was there and gave us this inspiring photographic and narrative account.
Water ceremony
The sacred water ceremony took place in view of the BP refinery. Break Free participants were invited to bring water from their homes—lakes, rivers, streams—to bless and pour into Lake Michigan, and then to retrieve some water from the lake to take home.  Several speakers told of the sacredness of water and expressed concern for current practices that violate its vitality. Participants were implored to appreciate its spiritual strength, to honor its life-giving nature, to respect and care for it. Sacred waters from both North and South America were brought to mingle with Lake Michigan waters.
Performance
Naui Ollin Quetzayolotl, a performing group from the area with roots in Mexico, led participants in honoring the Four Directions.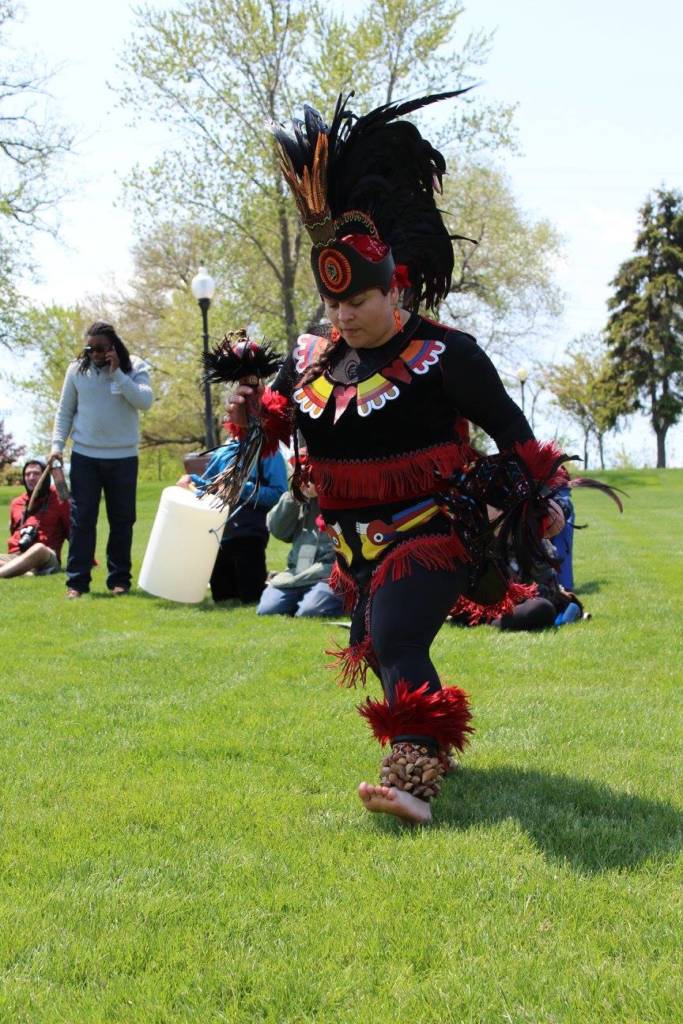 **************************
The full collection of Break Free Midwest photos can be found in these Facebook albums:
Climate Activists on the March
Multiple faith communities met in solidarity over Pope Francis' ecology encyclical, Laudato Si', on the evening of September 24, 2015, for  the first of a two-part event called "Light the Way: Faiths for Climate Justice." Organized by community volunteers, the event brought together about 100 people on the shores of Lake Mendota at James Madison Park in Madison, WI. There was music by local musician Clare Norelle, prayer, and presentations by many faith leaders who spoke eloquently about our environment and issued a call to action to protect it. The group assembled, then processed to the State Capitol where Overpass Light Brigade greeted the crowd with their sign, "Light the Way."
The presentations engaged themes in Pope Francis' encyclical Laudato Si' from individuals' faith traditions. Below is a list of the faith leaders in the order in which they spoke. Links go to presentations posted online.
Rev Thomas Saucier, Pastor, Blessed Sacrament Catholic Parish, Madison
Kermit Hovey, Director of Operations and Development, Care of Creation
Kathy Heskin, Professor Emerita in Theology, Dominican University
Rabbi Renee Bauer, Executive Director, Interfaith Coalition for Worker Justice
Huda Alkaff, Founder & Director, Wisconsin Green Muslims
Julia Isaacs, Madison Monthly Meeting, Religious Society of Friends
Rev. Karen Quinlan, Pastor, James Reeb Unitarian Universalist
Rev. Susan Schneider, Pastor, Trinity Lutheran
Ruthie Stewart, Christ the Solid Rock Baptist Church
Marcio Sierra, Pastor, Lighthouse Church, Apostolic Network of Global Awakening
Rev. Stephen Umhoefer, Pastor Emeritus, Catholic Diocese of Madison
More photos of the event are posted here.
The second event of "Light The Way: Faiths for Climate Justice" began at sunrise on September 25, 2015. Faith communities gathered on the shores of Lake Monona at the Monona Terrace rooftop for quiet contemplation. This was followed by fellowship at the nearby First United Methodist Church, where short videos on climate justice and livestream of Pope Francis' historic address to the United Nations were shown. The morning concluded with small-group discussion and brainstorming on how to carry on Pope Francis' message that "…we have to hear both the cry of the earth and the cry of the poor."
More photos of the event are posted
here
.
News Coverage of Light the Way
A HUGE thank you to all those who marched with us and supported us as we traveled to NYC on September 21, 2014, to participate in the People's Climate March.  We are so honored to have been part of this record setting march for the climate.  350 Madison is proud to have sent 150 marchers from Madison along with numerous supporters back home.Here are pictures from our trip, courtesy Monika Blazs. Thanks Monika!
With 400,000 people in NYC, and 2808 solidarity events in 160 countries, we took to the streets to demand the world we know is within our reach:  a world with an economy that works for people and the planet; a world safe from the ravages of climate change; a world with good jobs, clean air and water, and healthy communities.
 With our future on the line and the whole world watching, we took a stand to bend the course of history and we will keep on marching in our local communities, demanding climate action NOW!
350 Madison's involvement in the People's Climate March (PCM) would not have been possible without the outstanding work of Mary Beth Elliott.  Months ago, Mary Beth took the lead on organizing our entire trip and we are deeply grateful for her time, energy, enthusiasm, commitment, and special personal touch in every detail of our trip.  Our involvement in the PCM was a success due to her efforts!
Many thanks to all those who took pictures, especially our photographer, Monika Blazs.  
Media coverage of our participation in the People's Climate March:
Rev. Nick Utphall's letter to the editor in the WI State Journal
Margaret Krome's article on her participation in the People's Climate March
The Cap Times article on Madison's representation at the People's Climate March
Milwaukee Journal Sentinel's editorial on People's Climate March
Grist story featuring local marcher Mariella Treleven
WPR's Central Time featuring WI marchers Laura Hanson Schlachter and Laura Kiernan
Mashable article featuring Laura Hanson Schlachter
WPR's Chuck Quirmbach's interview with Beth Esser
WORT's interview with Judy Skog and Don Ferber
Did you miss the march?  Watch it here courtesy Democracy NOW!